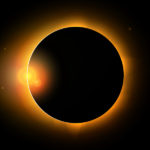 Are you having fun with the Eclipse energies? They're really an intriguing mix.
Many are experiencing the powerful disruptive current zigzagging through them, feeling intense changes occurring in their lives. Others are experiencing the beautiful, smooth and peaceful current that also seems to be present with them.
Both these energies weave in and out of each other, giving us a heightened, ever-more-interesting ride toward the Fifth Dimension.
It's important to learn how to flow with these energies in a balanced and awake manner. And also to realize that there are many opportunities that have opened up for us with these new energies. I describe these opportunities at length on my new youtube here.
(Note that I have courageously branched out with this one and attempted to do a slide show along with my usual podcast style. This was challenging to learn on my own at my age 🙂 , but also fun. My efforts are still very primitive and maybe a little cheesy compared to what others are producing these days with all the bells and whistles, but I will trudge forward in learning how to present material in a more sophisticated way. It keeps my brain young!)