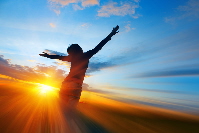 Over the years, I have heard from a number of both inner and outer sources that many of us will be taking our physical bodies with us to the Fifth Dimension when we ascend.
And that, before this occurs, our bodies will begin healing themselves of all disease and imbalances in the process of transforming from carbon-based forms to crystalline-based ones so they can ascend with us.
As incredible or unlikely as this might sound, this notion has always rung true for me. I have somehow known on a deep intuitive level that this would inevitably start happening for people.
However, it was never clear to me that it might happen for ME. Because my body was up there in years and also had been ill in numerous ways over the past 30 years, I assumed I'd probably be someone who would have to choose to put my body down before ascending—and simply create a new one in the Fifth Dimension—or however that works on that level. My body just seemed too worn out and dense to be one that could easily heal itself and turn into light.
So Much for That Belief
Well, I was recently shocked to find out after a long series of medical events that, after 71 years, my thyroid had suddenly "turned on" and was now producing a good amount of thyroid for the first time in my life. This was such a radical turn of events, that I initially resisted the medical findings with a certainty I thought I had.
For so many years, I'd had to take a thyroid supplement—and at times, massive doses of it—just to keep everything somewhat balanced in my body. I had been through very scary periods when, even taking very high doses of thyroid, my organs weren't able to absorb it. The very thought of taking less thyroid brought back nightmare experiences of months of trying to get enough thyroid into my body just to be able to minimally function.
But after an experience of my pulse reaching 135 and my blood pressure skyrocketing—and a prolonged visit to the ER, with two different doctors insisting blood tests were showing that I had way too much thyroid in my bloodstream—I finally relented and started taking less, and then even less thyroid. Almost immediately, I started feeling relief. My body settled down. My pulse was soon humming along in a very comfortable range in the 70s. And all the side effects of a racing pulse ceased.
I am currently taking a quarter of the dose I'd taken for a number of years—and I have a feeling I could probably go off of it altogether any day. I am being cautious and taking things slowly, but it seems I probably could do it without any harm done. Meanwhile, I am feeling better than I have for years. My whole endocrine system seems to balancing out.
This May be just the Beginning
So what does this mean? It could, of course, just be a kind of anomaly—one of those strange medical cases that can happen from time to time. But I tend to think this is a symptom of Ascension, that my body just may have started a process of healing itself.
And it somehow kind of makes sense that healing might begin showing up initially in something like the endocrine system, rather than say, my muscular or bone structures which are much more dense. The endocrine system seems much lighter, more fluid than other denser structures in my body, and could perhaps be more easily affected by the fifth-dimensional energies now flooding the planet.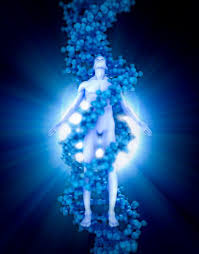 Seeing this as a spontaneous healing also makes sense to me because, for a few months beforehand, I had been practicing in my meditations calling forth light directly into my cells. I had been doing it without any thought about anything specific in the way of healing—it just seemed like a good overall thing to do for my body.
And it felt good. It was as if I could feel all my cells just light up when I'd do it—a kind of sparkling, tingling feeling all throughout my body.
So I get the sense that maybe this practice had something to do with my thyroid suddenly turning on. And, even more exciting to me is the thought that perhaps this is just the beginning. The beginning for my body—and perhaps an indication for all of us—that spontaneous healing may already be happening or will soon be occurring in all our bodies.
It Just Makes Sense
I do know that now that we're traveling through the Fourth Dimension, everything is actually becoming easier. For many of us, manifestation seems to be happening more quickly, it's easier to move out of negativity, easier to feel joy, easier to experience deep love.
Even though many of us are also experiencing some really hard things, as old patterns of limitation and wounding are arising to be released—we are also experiencing more spontaneous openings of joy and love for no reason at all. At times, a new sense of freedom just sings through us, a delicious lightness of being. So why wouldn't our bodies be healing as well?
I really encourage all of us to begin looking to see what is happening inside us—both in our emotional lives and in our bodies—just to see if healing is indeed happening. It's important that we become aware of old third-dimensional beliefs that bodies can't just spontaneously heal. And that bodies are always open to disease, and that they always get old and then they die.
All this was true in the Third Dimension. But we have moved out of that dimension now. The only thing that makes it look like we haven't is our habitual limited beliefs and way of seeing reality. If we can shift our perspective to a more open, trusting one of expecting miracles from the fifth-dimensional energies—who knows what can occur?