Experiencing Deep Communion with Your Sacred Heart
Online Webinar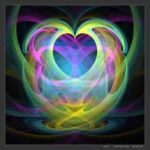 You are invited to join me in a lively question-and-answer discussion with
Colleen and Miles of the Planetary Activation Organization (PAO).
Sunday, February 24, 12:00 to 1:30 p.m. PST
I have been invited this month to shed light on how we can learn to love ourselves unconditionally – an essential practice we must master before we can experience 5-D consciousness.
We lightworkers have learned well how to focus on loving other people, being compassionate toward them, and being of service; but many of us have not yet learned how to fully love ourselves. Guilt, shame and self-doubt still manage to ensnare us, no matter how much time and effort we have put into our healing process.
In joining us in this PAO discussion, you will be enveloped in activational energy — and you will also be assisting the Galactic Federation in speeding up the necessary processes that will lead us toward full consciousness!
Subjects to be discussed:
* Getting in touch with your Sacred Heart power
* Difference between your emotional heart and Sacred Heart
* How to begin loving yourself unconditionally
* Moving beyond guilt, shame and self-hatred
* Handling the challenges of the "Ascension Void"
* Unconditional self-love and 5-D
After the Webinar we will answer your questions live. Within 48 hours after the live Webinar you will be sent a link to a video recording Sunday, February 24, 12:00 to 1:30 p.m. PST
Please note: If you are unable to attend on Sunday, February 24, you can still register. Within 48 hours, you will be sent a link to the Webinar posted (privately) on YouTube.
(After posting, the Webinar will be available for 1 week.)
Seats are Limited… Register Now!
Cost: $15.00 U.S.
(Scroll down to little white button)