Living in 5D: Crystalline Grid Teachings and Meditation
Living in 5D
presents
Celestine Star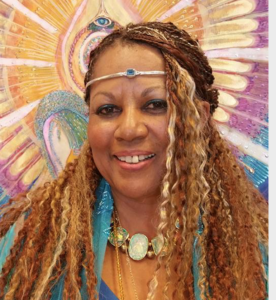 Saturday, May 18 
2-5 pm
7156 Witter Road, Sebastopol, CA
The first of these 5D gatherings, held on March 24, was a beautiful event. Many people attended to create the beginning of a new energy here in Sebastopol — a sense of collective power within a group of people consciously ascending into 5D.
Since then, Dan Craig-Morse and I met and decided to become the "planning committee" for now for the continuing series of these gatherings. If you have ideas about either people or subjects you would like to see involved in presenting these gatherings, please let us know!
Celestine Star
For our second event, we invited Celestine Star to facilitate. She will help us discover and experience the ancient technologies of the Crystalline Grid.
In hearing her presentation, we will learn about our Magnetic-Electric World Grid, and how it connects to the matrix of the human body and the use of crystals in working in the Grid. She will dive deep into the magnetic-electric scalar wave formations of our thoughts and speech and how to utilize this knowledge to offer empowering healing, love and balance to those in need and to the world.
Celestine has performed over 50 Crystalline Grid Ceremonies, both in Europe and the US, with hundreds of participants who planted their prayer-crystals around the world in places of power, establishing a Crystalline World Grid of empowering blessings for all.
She will be guiding our 5D group in a Crystalline Grid Meditation, ending in our creating a Crystalline Grid Ceremony. (If you have a working crystal, please bring it to place your prayers in.)
Please join us for this exciting event to strengthen our awareness as a collective force that can help to shift the planet!
And come early, so we can get started at 2 pm. Bring a snack to share at the break, if you'll be hungry. 🙂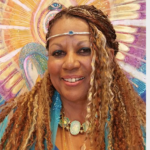 Celestine Star, D.D. has been called a "Renaissance Woman" for our evolutionary times, possessing knowledge, wisdom and expertise in many fields of endeavor. Star is a Sacred Wisdom Keeper, Grandmother, Author, Speaker, Healer, Holistic Therapeutic Practitioner, Spiritual Leader, Multimedia/ Documentarist and Event Producer. She is  currently owner of Papillon Life Services (2002), a Holistic Therapeutic Healing Practitioner, Golden Star Productions (1987), an Events and Media company producing documentaries, Live-Video events and workshops, Multimedia productions and archives of human history.  
Star's life experiences in the world of Metaphysics and her contacts with Ultraterrestrial Beings inspired her to open the Temple of Light and Enter Dimensional Light Services in 1987, where she held Light Group Meetings, private Skywatch, specialized events, lectures, workshops and presentations along w ith Celestial Activations, sacred ceremonies and private teachings. Participants learned about advanced Ufology, advanced science, consciousness evolving metaphysics, health, nutrition, relationships and emotional healing.
Star's practice of over 40 years and life work has touched thousands of people from around the world fulfilling her mission in life to assist in the evolution of human consciousness on our planet and keep the "Way" sacred.