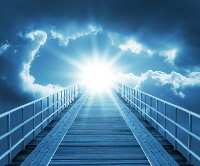 So, it seems that many of us are now stepping more and more fully into the Fourth Dimension, on our way into the Fifth Dimension. The fourth dimension is a bridge we're crossing—or a kind of transitional phase we're passing through—to help prepare us for entering the Fifth. This makes sense to me. Entering the Fifth Dimension seems like such a huge leap to make—we do need a stepping stone.
Most reports we hear about these higher dimensions speak a lot more about the Fifth Dimension than they do about the Fourth. And what I hear about the Fifth Dimension is exciting. My whole being resonates with what awaits us there. It's utterly familiar to me on a profound level—like a long-lost memory finally surfacing—and there's a deep longing that arises to simply be there again at long last.
But my interest at this point is in the fourth dimension—because that is what I am more aware of on an everyday basis these days. And it's where many people I talk to seem to be focused on, as well.
More Detachment
How can I describe my experience of this Fourth Dimension? First of all, more and more of a detachment about the outer world is present. This has been developing in me for years—but it is ever more powerful now. It's as if in a certain way, I am no longer really involved in the third dimensional world. Of course, I am still dealing with third dimensional concerns and with people totally involved in that level. But more and more, there is a distance I sense with everything physical and material. It's as if I am somehow operating my physical body and objects around me from a remote distance.
Choosing Solitude
Something else I am noticing is that I am choosing to spend more and more time alone, in solitude. Unless I'm with people who are in this same kind of space I'm in, I get bored, antsy. I want to leave and just be in my own space. Sometimes a concern arises that I'm becoming too much of a hermit, that I no longer have the number of close friends I once had—but then I just hear, "This is appropriate. Don't worry—it's part of the process." And I let the concern go.
Third Dimensional Passions are Gone
Something else I notice: I am finding myself almost totally without passion for anything—except for the subject of ascension into higher levels of consciousness and awareness. That passion continues to burn ever more brightly within me. But passion for other things this level of experience offers—they're gone. I have no real desire to travel anymore. No desire to learn anything more on this level. Or accomplish anything new. Certainly no desire for acquiring new things in my life.
It's a sense that there's no more need to do anything or go anywhere anymore, in order to accomplish anything. The game—whatever it is I've been involved in here for eons—is finished.  I am simply waiting for what is next. I am waiting for the next game to show up.
Uncaused Joy
This Fourth Dimension seems a whole lot clearer than the third—less stuff psychically to encounter. My days are basically smooth and uncomplicated. There is a glorious joy that sometimes arises often out of nowhere. There's an expansion with this, like the whole universe is suddenly open to me to flow into. There's light—lots of light—that pours into me, sometimes bringing me to tears.
There are times when I tune into the human race and the opportunity we all have now to be released from suffering, and I find myself sobbing with the love and compassion flooding through me. It feels like it has been millennia that I have waited for these times to arrive, and they are finally here. What incredible joy!
Sometimes I feel impatient. I want to be free and awake enough to simply enter the Fifth Dimension. But I am clear that this bridge of the Fourth Dimension is necessary. I need to relax and simply make my way across the bridge as quickly as I can. And enjoy this dimension as thoroughly as possible for what it is.