As you are probably aware, fires are currently raging all throughout California at this point, having been caused by freakish lightning storms last weekend. In less
than a week, at least 560 fires have been ignited; and firefighters, who have been working 72-hour shifts, have barely begun to contain them. It is overwhelming on all levels.
As a northern Californian, I have witnessed and dealt with the horrific fires that have hit this state in the last few years; and yet, this complex configuration of fires is unbelievably many times worse than in previous years.
At this point, the area I live in is being circled by fires from every direction. Thousands have been evacuated and lost their homes, and many are still anxiously living in evacuation warning zones, as news every day reveals that more and more acres have been burning out of control.
As if pandemic and lockdown fears and losses were not enough for Californians to contend with, we are now dealing with lost homes, evacuation, and heavy smoke-filled skies that will probably last for weeks on end.
And, very sadly, the fires are not only continuing to threaten thousands of homes, they are also threatening several of the most beautiful national parks in the state, including Yosemite, Big Basin, and Armstrong Woods.
Time for a Mass Meditation
Therefore, it's clear that it's time for a mass meditation to help California through this newest disaster. We have great power in our consciousness now to affect outer world events. We've seen this before with mass meditations.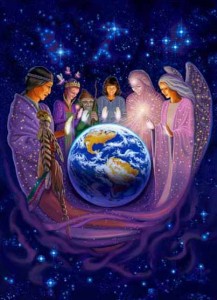 If you will join me in one this week for this purpose, I believe we can help turn this fire disaster around much more quickly. We can focus on containing the fires and bringing help to those who have lost their homes and businesses, those having to evacuate, those with health issues due to the smoke, and those courageously working to contain and extinguish the fires.
I am proposing we conduct this meditation this coming TUESDAY, AUGUST 25, beginning at 7 pm Pacific Time, 10 pm Eastern Time. (To find your time outside the US, click here.)
You can do your own meditation at this time, or you might wish to follow the guided meditation below. It's brief and easy to follow.
Please join me in this effort. You can do this meditation now and continue doing it as many times as possible in the coming days – but please do also join in doing it together on Tuesday, August 25. The more of us there are doing it at the same time can really make a difference!
Also please send this to as many people as possible – post it on facebook, and anywhere else. Thank you!
Although we can rest in knowing that the positive timeline to the Fifth Dimension for planet Earth is already secure, the timeline of getting there is not yet set. It could be relatively smooth — or it could get a lot worse for a while.
Together, let's use our growing power of consciousness to not only help to extinguish the fires in California – but also to help to bring about the end of these tumultuous transitional times on the Earth altogether!
Maharishi Gandharva Veda Rain Melody
You may recall the success that the Transcendental Meditation mass meditations had on crime a while back — and how the effect of them was subsequently dubbed the "Maharishi Effect". Here is a message sent to me from a man, David Pena, describing how this same organization also brought on rain back in the early '90s.
"When I was living at the Maharishi University of Management, on staff in the early 1990's in Fairfield, Iowa; there was a strong drought. Some of us got the idea to play the "Maharishi Gandharva Veda Rain Melody" at home to help stop the drought by bringing much needed rain…then someone thought of playing the Rain melody on our radio station…every hour or every other hour.
"Soon after this was started, the dark clouds began to gather and it began to rain like never before…There was flooding to the North, South East and West of us. It was crazy. Apparently, when the pendulum of Nature is "Stuck" on one extreme end…when it lets go it goes to the other extreme…has too much momentum. So, one thing turn off the music when it starts to rain…don't over-do it! ! !"
It's beautiful music; I've been listening to it all day, on and off. Here it is: