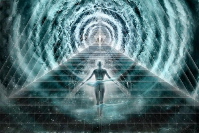 When we look at what's going on in the world, it can sure seem as if we're all still in the Third Dimension. War, injustice, and greed still seem to reign.
And, at least occasionally, it may feel as if we are still in 3D, as well. Although we are well aware of the Shift taking place within and around us, our old ways of operating may still feel like they're in place. We can still fall into fear, anger and depression at times.
The truth is we are no longer living in 3D reality; that reality closed off on the earth back in December 2012.… Read more ...