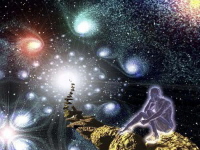 If you're feeling as if strange things are happening to you in your life and you sometimes feel as if you may be going crazy—you probably don't need to worry. You may just be experiencing what have been called "Ascension Symptoms".
You may be in the middle of a process known as "Ascension into the Fifth Dimension"—a wild ride into a much higher consciousness we are all being thrust into at this point, as the Earth makes her own ascension into this higher dimension.
There is a wide range of Ascension symptoms people are experiencing—some of them physical and some psychological.… Read more ...