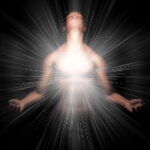 There is perhaps no feeling quite like that of suddenly experiencing your heart bursting open to a Love that fills your entire being and streams out to everyone and everything around you. Your chest feels warm and expanded, pulsating with vibrant energy. And all mind chatter ceases, as you continue experiencing this extraordinary transformation of your being.
If you've ever had this experience, you have likely found that the energy rushing through you is so great, tears fill your eyes. You may even dissolve into sobs of joy and gratitude.
Such an experience can be so intense, you can feel as if you are made of nothing but Love.… Read more ...