I love the Occupiers. I greatly admire what they're doing. I see them as the beginning forces in the world that are starting to turn things around in a big way. They are bringing awareness to people, creating a change in attitude, awakening a sense of empowerment. And I have no doubt they will be influencing important government decisions before long. All this greatly excites me.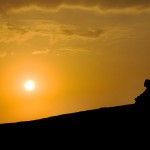 Yet I am not an activist, myself—at least not in that physical kind of way. It's not my calling. Nor is it that of many people I know. We're more of what Eckardt Tolle has called "frequency-holders".
Those of us who are consciously holding a high frequency know that this is not a passive or inactive role. Consistently holding a frequency of peace, love and joy is not an easy task. It takes constant vigilance.
You have to watch your mind and every little thought that passes through. You have to watch for the potholes of negative emotion you can easily fall into out of habit. You have to choose, over and over again, to not fall prey to old patterns—and to choose the positive, no matter how difficult.
Old Hidden Patterns
All this is especially challenging, now that old hidden patterns seem to be arising out of nowhere. Yes, we can know they're arising so they can be released, and that all we need to do is step back, observe them, and not get caught up in the emotions swirling around inside of us. But to actually do that when the pattern involves old, old issues that cut deep and emotions that grab us before we can even become aware of what's going on—that can be deeply challenging.
But then, that's what we frequency-holders seem to be good at; we have studied ourselves closely for a long time, we have worked on clearing our thoughts and emotions, we have healed many an old emotional wound. We know what it is to constantly focus on that next higher level of consciousness. And we know what it feels like when our Spiritual Heart opens up and floods us with unfathomable love and joy.
Those of us who have made this conscious journey toward greater and greater spiritual freedom over the last decades are well-trained to act now as frequency-holders in this world that needs us now, more than ever before. We can simply be who we are, as we are. There is no need to do anything but continue to hold the higher consciousness as best we can, as we live our lives. Our presence is felt.
Choosing to be a Frequency-Activist
And, if we wish to become frequency-activists, we can consciously, actively act from the frequency we hold. We can be very conscious and present with it, as we move around the world, wherever we go. Instead of going somewhat unconscious when we're in the grocery store or at the post office, we can be very much aware of the energy we're bringing into all locations we go. We can actively send Light and love to everyone we pass. We can call on all the invisible help that is available for the asking and request it assist everyone we meet for the highest good.
It's simply a matter of staying awake, staying awake, staying awake. Choosing to be awake in every moment–present, in the moment—and in our Heart. A tall order at times. But what an effect we can have on the world.
Together, along with the activists out there in the streets, we can create the world we all have all yearned for, for so long.